Most Recent Work:
2017: Blood on the Snow – (Producer) Responsible for Front of House management, curtain speeches, and post-show facilitation.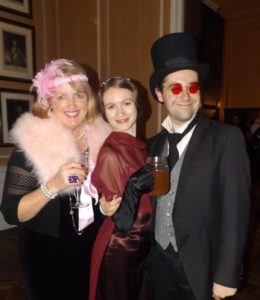 2017: Jekyll & Hyde: A Castle Hill Halloween Party – (Dr. Lanyon – Collegue of Dr. Jekyll)
2017: Tours of the Great House – (Agatha Bates – Lady's Maid to Miss Florence)
2016: The Great House of Frankenstein – (Elizabeth Lavenza – Fiancée of Dr. Frankenstein)
2016: Tours of the Great House – (Agatha Bates – Chamber Maid)
imaginary beasts – Robin occasionally helps through her connections with Design by Chris Bocchiaro.
2018: Panto 2018: 20,000 Leagues Under the Sea – (Assistant Lighting Designer)
2017: Panto 2017: The Princess and the Pea – (Assistant Lighting Designer)
2016: Angela Carter's The Fall River Axe Murders – (Addition Creative Help) Built a tiny house to be illuminated from the inside.
2015: Kerplop!: The Tale of the Frog Prince – (Production Assistant) Robin was able to help out and spent most of tech week helping to build the lily pad lights and lighting the castle windows, along with any other tasks that needed completion. She also did odd jobs for the costume designer.
Hub Theatre Company – Robin occasionally helps out through her connections with Design by Chris Bocchiaro
2016: Art – (Load-in/Strike Help)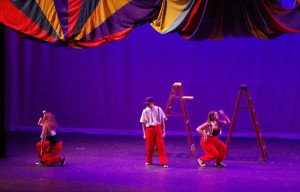 Arabesque Etc. Dance, LLC – Robin joined the team for this new studio in 2013 teaching novice (II) and intermediate (III) ballet with beginner pointe and pre-pointe. She is currently teaching pre-pointe and variations.
2016: Mother Goose Remix – (Choreographer) Robin choreographed "Jacqueline and the Bean Stalk" and "Little Red Riding Hood".
2016: The Glass Slipper – (Choreographer/Lighting Designer/Board Op/Co-Sound Designer) Robin choreographed the Autumn Fairies and Cinderella's Best Friend's Solo. Robin was also the lighting designer and board operator, and also helped with cutting music for sound design.
2015: Nutcracker Tea – (Choreographer/Stage Manager) Robin choreographed the Sugar Plum fairy solos, the Waltz of the Flowers, and the finale.
2015: Under the Big Top – (Choreographer/Sound Designer/Lighting Designer/Board Op) Robin choreographed "Mermaids" and "Polichinelles" for the end of the year spring recital. She is also helping out heavily behind the scenes with the technical side.
2015: Beauty and the Beat – (Choreographer/Production Assistant) Robin choreographed "Tea Time Cupcakes" (Intro to Dance/Pre-Ballet) and "Preparation" (Pre-Pointe/Intermediate III) for Sunday's show. Robin was responsible for putting together the props notes and programming and running the music cues for the show. Robin also directed volunteer ushers, ticket sales, and runners.
2014: One Heart – (Choreographer/Dancer) Robin choreographed the piece "Preparation for a Wedding" as well as performing and choreographing the Viennese Waltz section of the ball scene. Robin was also a runner for the younger kids.
2014: Les Miserablés – (Costume Team/Wardrobe) Robin helped out backstage as assistant lead dresser under the wardrobe supervisor and lead dresser, taking over for the lead dresser for a few of the shows, including opening. She also helped build many of the costumes including the convict pants, the student vests, and the men's collars for the wedding scene.
2013: Oliver! – (Sound Team) Robin helped set up the sound board and microphones, spent time at the sound board learning about sound mixing, and was backstage wiring actors with microphones, then striking them after the show, and keeping microphone sharing between actors straight. Robin also helped put up sound material in the orchestra pit and strike at the end of the show's last performance on Sunday.
2012-Present: USA Dance, Inc. – Chapter 3033, Green Mountain – Robin joined the board for her local chapter of USA Dance, Inc. in 2012. She became an executive member of the board in 2013. USA Dance, Inc. is the overarching governing body for ballroom dance in America and is a member of the US Olympic Committee.
2011-2014: Dance Junction – Robin helped start up the ballet portion of Dance Junction's class schedule in 2011 with her Pre-Ballet program. The program is for dancers, age 4-5. Each year the program is adjusted and levels added so that more advanced classes may be taught as well. Robin has choreographed the ballet program pieces and performed staff demos for every recital Dance Junction has had since the first year. She has also assisted as a dancer runner every year.
Winchester High School Spring Musical: 
2005: Little Me – (Tech Crew/Lights) Robin gained backstage experience by joining the Technical Crew for Little Me, and was responsible for running spots for the length of the show's run.
2004: West Side Story – (Pit Orchestra) Robin played the Reed II part in the pit orchestra on B-flat clarinet.
Woburn Summerstock Theater: 
2000: Sharon Burgett's The Secret Garden – (Actor) Robin auditioned for a part in The Secret Garden, directed by Neil Cudmore, in 2000, and was cast as a Maid and Friend of Mary. Her talents were showcased in the smaller group she was placed with for "I've Got A Secret".
---
Training History:
2011-2012: Private Training in Competitive DanceSport – Robin continued competitively training after leaving the UVM Ballroom Team with Bill Pedrick and volunteered at the Manhattan Amateur Classic for 2012. She also competed with a new (temporary) partner for MIT Open 2012.
2011: FlynnArts Ballet Program – Robin spent her last semester of undergrad going to two ballet classes a week with the same teacher – one at UVM and one at FlynnArts in Downtown Burlington. While not actually up to her level of dancing, it kept her active and practicing. The culmination of these two classes was a choreography piece done at the FlynnArts spring showcase entitled, "Tangled". Robin had a fair amount of input in the piece along with instructor Elizabeth Brody and performing dancers Anna and Nicole.
2010-2011: University of Vermont Ballet Gym Credits – Robin decided to work on her ballet training more with the spare credits she had available for school.
2009-2011: University of Vermont's Salsa and Swing Society/Ballroom Dance Team – Salsa and Swing Society (a.k.a. SASS) became Robin's new dance home in 2009. SASS is the overarching club that houses both the ballroom dance team and the salsa team. Robin was a member of the ballroom team and trained several hours a week, either in private practice with her dance partners or at team practices under the guidance of Bill & Carolyn Pedrick, Dave & Paula Schneider, Joe Larose, Heather Klaff, Owen Brady, and Corey Griffiths. Robin competed at several competitions with the team including the Manhattan Amateur Classic, UConn Husky Classic, Harvard Invitational, MIT Open, Yale University Ballroom Competition, USA Dance Nationals, and the National Collegiate DanceSport Challenge.
2008: University of Vermont – Robin took a course in Dance History and Legends with Paul Besaw in her first semester at her new university in the fall of 2009. It was through this course that she began to understand modern dance a little more, and through which she began to appreciate fully the usefulness of a classical dance background and the artistic pursuit of classical ballet.
2008: Temple University – Robin took a course based in both music and dance that explored the evolution of jazz in America. The course reviewed some dance material Robin already knew, but also built on her knowledge of jazz inspired dances. Master classes included in the syllabus included tap and African dance.
2006-2007: Susan Rivers/First Congregational Church of Winchester – Robin took her first step towards learning ballroom dance in 2006 for her birthday: Afternoon Tea followed by ballroom lessons in East Coast Swing and Waltz. She then began to take ballroom dance at her church with the same instructor. Much of the beginnings of ballroom inspiration were from those Sunday night lessons.
2006-2007:  Winchester High School, Drama Course – Robin took the course "Modern and Shakespearean Drama" at the Honors level her senior year of high school with the intent of training her acting skills. The course focused on monologues and dialogues, with improvisational practices every Friday. Robin performed monologues for Helena in A Midsummer Night's Dream, Sophie in Star-Spangled Girl, and Buffy Summers in Buffy the Vampire Slayer. She performed dialogues as Miranda in The Tempest, Guildernstern in Rosencrantz and Guildernstern are Dead, and Estragon from Waiting for Godot.
2006: Karen Bernard School of Dance – Robin took a class in modern dance in order to expand her dance repertoire.
1997-2002: Kidstock! Theater – Starting from age 9, Robin participated in Kidstock! summer camps and was in such wild and crazy productions as The Mooing Lisa, Sea Wars, and The Aristocats. Robin was also exposed to the works of William Shakespeare acting in productions of Much Ado About Nothing, Macbeth, and The Taming of the Shrew. Her musical theatre knowledge was expanded while participating in productions of Guys and Dolls, Hello Dolly!, and others.
1993-2006: Winchester Ballet Conservatory – Began dance training at age 5 when the studio first opened with Artistic Director Leigh Spencer and was with the company until her last performance in June of 2006. While there she trained under Leigh Spencer and Denise Pons. Robin stayed with the company when it switched ownership in 2002 to Isil Avci, who was influential in Robin's continued dance development and teacher training. While with the company she was in The Nutcracker for 13 consecutive years, danced the part of Odette in Swan Lake, was cast as both Winter Fairy and an Evil Step-Sister in Cinderella, and spent a lot of time helping with back stage work as well. Robin was introduced to jazz dance during her time at Winchester Ballet Conservatory, taking a once weekly class. Robin began her dance teaching career at Winchester Ballet Conservatory as well in 2003 as an assistant teacher. Isil trained Robin in different teaching techniques and eventually gave Robin control of her own classes.